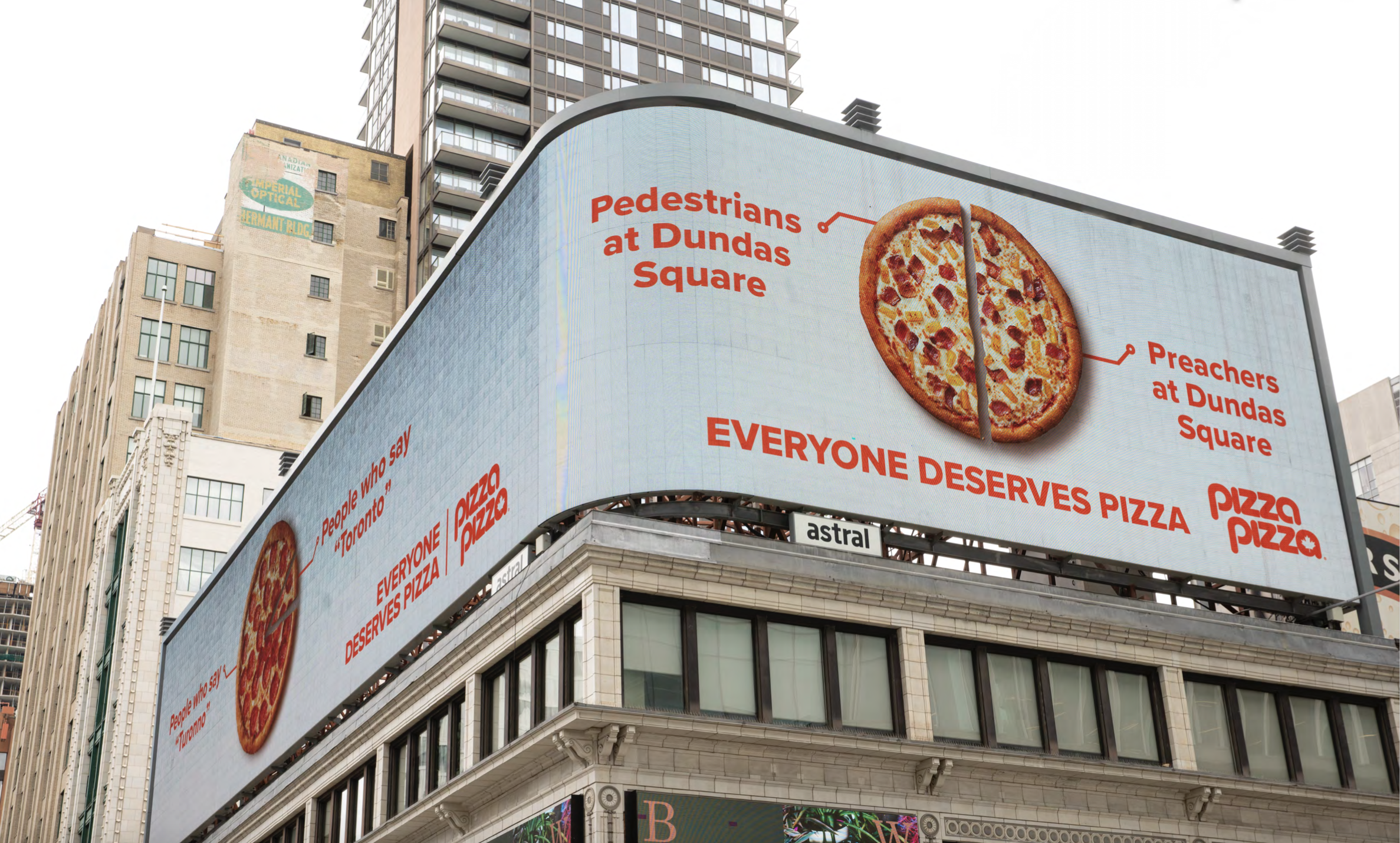 If there's one thing that can unite all Canadians, no matter their favourite music, social media preference, or whether they like cats or dogs – it's the joy and satisfaction of a delicious hot and fresh pizza. This is demonstrated In Pizza Pizza's latest campaign rollout, in which the homegrown QSR turns pizza pies into clever and culturally relevant pie charts.
The campaign developed by agency partner Zulu Alpha Kilo, is Pizza Pizza's second execution of its new brand platform, Everyone Deserves Pizza, which launched with the inventive Fixed-Rate Pizza program earlier this summer. The latest tongue in cheek pie charts campaign features over 60 custom headlines tailored across relevant contextual placements from social to programmatic display, city-specific digital OOH and bus wraps.
A social placement shows a pie chart made up of 'Facebook users, 'Twitter users, and the notably smaller group of 'Myspace users. A highway OOH board compares 'People who carpool' with 'People with pools in their cars'. Meanwhile, a Yonge and Dundas execution contrasts 'People who say Toronto' with 'People who say Turronno' – an ongoing local debate. Each ad is punctuated with the platform line 'Everyone deserves Pizza'.
The platform supports the belief that everyone has the right to delicious pizzas that suit their tastes, price point, delivery method and location. "As the brand that aims to represent all Canadians' pizza-related wants and needs, the pizza pie charts are the perfect demonstration of our commitment. At the same time, we wanted to stay true to our brand personality and bring some levity to Canadians. " said Adrian Fuoco, Vice President Marketing.
"The 'pizza pie chart' executional device is simple, fun, versatile, and very product-forward. Using contextually relevant headlines demonstrates Pizza Pizza's understanding of Canadians in a playful but insightful way," said Brian Murray, Executive Creative Director at Zulu.
The campaign launched nationally late July and features bespoke perceptive headlines targeted to the Quebec market, developed by agency partner The French Shop. Paid media is planned by Media Experts leveraging digital OOH, programmatic display, CP24, bus and streetcar wraps, with social media executed by Abacus Agency.