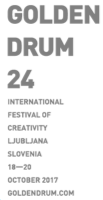 24th Golden Drum International Festival of Creativity, which will take place from 18 until 20 October 2017 in Grand Hotel Union Ljubljana, Slovenia, has announced the final entry deadline: 18 August 2017.
Entries will be judged by two juries of 22 top internationally recognized experts from creative industry. John Mescall, Global Executive Creative Director and President of McCann Global Creative Leadership Council will be the Best Practice Jury President and the Best Piece Jury Presient will be Bruno Bertelli, Global Chief Creative Officer, Publicis Worldwide.
The Golden Drum Competition is the official competition of the festival. The Competition and Awards are open to all agencies, advertisers, clients, design or production houses, media companies and others involved in the creation or production of marketing communications, registered in the following countries: Albania, Armenia, Austria, Azerbaijan, Belarus, Bosnia and Herzegovina, Bulgaria, Croatia, Czech Republic, Cyprus, Estonia, Finland, Georgia, Greece, Hungary, Israel, Italy, Kazakhstan, Kosovo, Kyrgyzstan, Latvia, Lebanon, Lithuania, Macedonia, Malta, Moldova, Montenegro, Poland, Romania, Russia, Serbia, Slovakia, Slovenia, Tajikistan, Turkey, Turkmenistan, Ukraine and Uzbekistan.
All entries must have been aired/published/implemented for the first time between 1 January 2016 and 18 August 2017. Entries must not have been entered in the Golden Drum competition in previous years.
Important dates:
Entry submission and personal registration: open
Final deadline for entries: 18 August 2017
More about Golden Drum at www.goldendrum.com.
Additional information:
Karmen Čelam, Public Relations Manager, Golden Drum Festival
E: karmen.celam@goldendrum.com, M: + 386 40 353 615
Aleksandra Papež, Public Relations Manager, Golden Drum Festival
E: aleksandra.papez@goldendrum.com, M: +386 40 794 900
Lea Likar, Public Relations Manager, Golden Drum Festival
E: lea.likar@goldendrum.com, M: +386 41 941 706