The 27th festival edition revamped its competition last year as the world was grappling with the pandemic, putting heart and soul into the vision of a sustainable future. A vital part of our commitment are the 

festival trophies

 – the most tangible messengers of our brand. Award-winners this year will be receiving our new sustainable trophies.

"We built on the idea of natural and recycled materials; rather than taking away from the prestige of the awards, we feel this characterizes them with an important message. The visual appearance of the Golden Drum trophy reflects the fresh direction of the festival while also strongly featuring its logo. We've restructured the competition this year, and a new trophy is a perfect way to usher in a new era. You're looking at a trophy that embodies the new festival DNA" said Mojca Briščik, executive director of the Slovenian Advertising Chamber and the festival's president.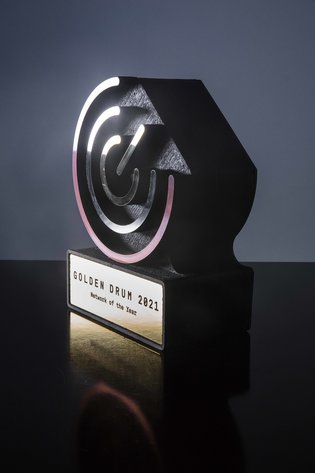 Perfect in its imperfection The Golden Drum Festival wishes to support sustainable trends and the reduction of the global carbon footprint. Our new trophies are considerably lighter, affecting shipping across the entire supply chain. We believe that each contribution can further the renewable mindset, no matter how small it appears at first glance. Bit by bit, we can get there together.      

The trophies showcase the logo in a combination of sustainable & environmentally friendly materials – natural and recycled elements, primarily wood since over sixty percent of Slovenia is covered by forest. With this, the festival continues its streak of distinction.

Wood forms the base and shaft of the statue, granting elegance as a pristine part of the surroundings where the festival has sprung its roots. The bulk of the material is recycled plastic; trophies are 3D printed from plastic that is recycled from discarded household packaging.
 

The characteristic texture looks quite unlike non-recycled material, contributing to the unique aesthetic of each individual piece. A touch of shine is added by recycled aluminum.

    "Integrating sustainability commitments and concepts into the core of the festival feels crucial, as it is precisely key actors in advertising who are capable of illuminating the issues of our planet while celebrating its multitude of expressions. Moreso, I'm convinced that our mission is to participate in activities promoting the balance of sustainable renewal. By redesigning its trophies, the Golden Drum Festival pays homage not only to creative excellence, but also our home world where we all coexist", comments Polona Simšič, CEO of the festival.

The simple yet compelling statues are manufactured by the Slovenian company Epigram, a leading company in the region in visual communications, specializing in large-format print and JUMBO 3D printing.