"We are not famous," a young boy states in the opening frame of Kia Motors' 2019 Super Bowl commercial. "There are no stars in a sidewalk for us. No statues in our honor. We're just a small Georgia town of complete unknowns."

For Kia's 10th consecutive appearance in the Big Game, the auto brand known for its challenger spirit took an unconventional approach. This year, Kia didn't use a celebrity for its Super Bowl spot. This year, Kia began a movement to honor The Great Unknowns: The hard-working people of America. Starting with the proud workers of Kia's West Point, Georgia plant who build the new 2020 Telluride SUV.
The Big Game Ad: "Give It Everything"
In the touching 90-second spot – created by David&Goliath and directed by acclaimed Serial Pictures' director John Hillcoat – West Point is depicted in a series of shots showing its rural, small-town feel. "Because we are not known for who we are," the boy continues, "we hope to be known for what we do. What we build."
The viewer then sees the first glimpse of what it is they build: Kia's new flagship model, the Telluride SUV. The voiceover continues, "No, we are not famous. But we are incredible. And we make incredible things."
The spot, which aired during the third quarter, ends with the super: "Here's to the Great Unknowns. Give It Everything."
New Brand Positioning: Give It Everything
The campaign not only launches Kia's new SUV, but it also introduces an evolution of the brand's positioning and expression that brings its challenger brand truth to the forefront: "Give It Everything." This new positioning highlights Kia's unstoppable spirit to try harder, work smarter, build better and sweat every detail. "Give It Everything" will launch with the Telluride campaign and be part of all Kia campaigns moving forward.
"Rather than just launch a Super Bowl spot, we wanted to create a movement. One that recognizes the challenger spirit in all of us," said David Angelo, founder & chairman of D&G. "'Give It Everything' is Kia's authentic truth that comes from its history of being a challenger. The hard-working people of West Point fully embody this spirit. So we thought, what better way to honor these great unknowns than to give them the spotlight on America's biggest television event of the year. Starting now, "Give It Everything" is Kia's new company ethos and will fuel everything it does. From inside its four walls, to the dealership experience, to supporting education for America's youth. Because when you give it everything, there are no limits to what you can achieve."
In the spirit of Give It Everything, the campaign also unveils "Just a Small Georgia Town," a new short form documentary that uncovers the story of West Point, GA. A small town that rose from the ashes of a collapsed textile industry, relying on only its courage to see it through to the other side, before finally finding new life when Kia opened its new plant there nearly 10 years ago.
The Great Unknowns Scholarship
But it doesn't stop there. The money that is saved by not paying a celebrity will be used to create The Great Unknowns Scholarship, to assist eligible students who plan to continue their education in college or vocational school programs. The goal is to discover and reward young Americans who embody the spirit of "Give It Everything," and help them pursue their academic dreams.
Angelo added: "The Great Unknowns Scholarship is just one piece of the overall movement that comes to life on multiple platforms. It's not about one thing, but rather a drum roll for the brand ready to solidify its truth on the world stage."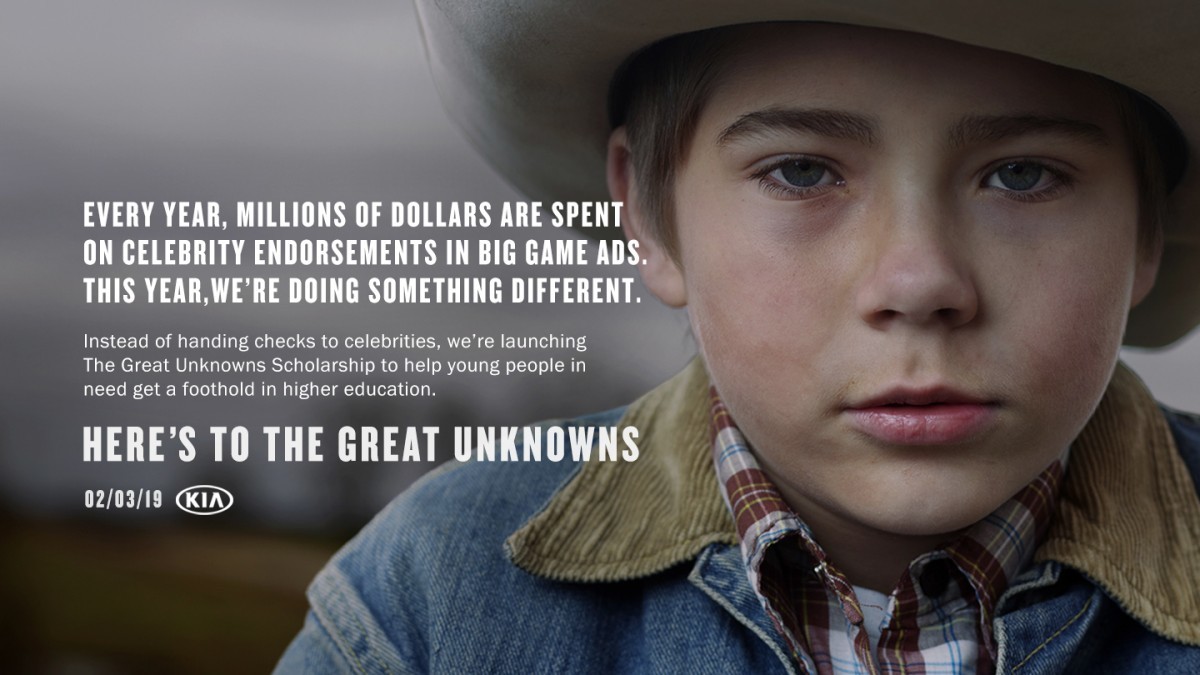 Tell us about your role in the creation of this work.
My name is Mark Koelfgen. I'm an Executive Creative Director. I run the Kia group here at David&Goliath. I oversaw the creation and execution of our Super Bowl efforts. I also co-wrote the commercial.
Give us an overview of the campaign, what is it about?
81 miles away from the most famous place on Earth on February 3rd is place most people have never heard of—West Point, Georgia. It's probably not even the most famous "West Point." We make a lot of Kias there. This campaign is about the people of West Point. In a larger sense, it's about challenging the importance of fame. Fame is currency in America. It's the cornerstone of social media. These days, some people are just "famous for being famous." The people of West Point go to work every day and give it everything to make great cars. They're challengers. True underdogs. Like a lot of us, they work hard and do incredible things but never get recognition for their efforts. We thought putting them on a global stage could change that. If only for a minute.
How is this Super Bowl brief different from the usual brief?
What made this year so different was the need to articulate what the brand was all about. Kia went from making so-so cars to making some of the best cars out there. I won't bore you with how they did it. It's been a complex, multi-year push. After 19 years, we knew it was time to carve out the ethos of the brand. And express it in a way that felt authentic to us. But also made sense to our drivers. That led us to "Give It Everything." When we finally arrived at "Give It Everything," it just felt right. At its core, making incredible things isn't complicated. It's just dogged determination. And having an inexhaustible, challenger spirit. The opportunity to define what Kia stands for going forward is a brief you don't get every day.
Can you share your favorite behind-the-scenes moment with us?
Australian director. French DP. And a pile of agency people from Los Angeles. In truth, I wondered whether rural Georgia would really take to us. One night we were filming outside a church. One of those kind with the tall, pointy spire. It was just before Christmas. People were filing in for choir practice. Everyone had on their red Christmas sweaters. The parishioners ended up inviting us in to look for some interior locations. People were exchanging presents. Someone was playing the piano. They offered us Christmas cookies. In a time when we're sold on the incurable divisions between us, it was pretty gratifying to be welcomed that way. Southern hospitality is a real thing. And there wasn't a person who didn't go completely out of their way to make us feel at home.
What was the greatest challenge that you and your team faced during development?
Kia has been a great, funny brand. Pretty much forever. When we sat back and looked at the wide world of car advertising, it occurred to us that the more prestigious brands weren't big, funny brands at all. A car is a significant investment. And when you start building better ones, you have to reassess how you talk to drivers. Quality, at its root, is a serious undertaking. D&G has such a long history of memorable, funny work for the brand. Especially in the Super Bowl. This year we had to rewire our brains to think about Kia differently. It's not easy when you're innate impulse is to hunt for the best joke.
What did you enjoy most about seeing this campaign through? Did you learn anything new from the experience?
Working with John Hillcoat was a dream come true. I had wanted an opportunity to do that for a long time. Like a lot of new age talent, John is incredibly kind. He has a way of cringing when you have a really bad idea that just makes you shut up and listen. I had worked with Kirk Baxter before. So I knew he'd take the work to a new level. I'm a big fan of Dan Romer. His music just punches me in the chest. In truth, the team we assembled was so good I remember thinking "Even if I totally suck, I think we're gonna be ok."
What is your favorite Super Bowl ad of all time?
This is so hard! Can I cheat and mention a few? To avoid being tacky, I won't mention the D&G Super Bowl spots. (Which are pretty awesome.) Ok, here goes. I loved the old BBDO Pepsi stuff. The diner commercial. It's still good. I remember seeing the first Bud Frogs spot. I honestly didn't see it coming. When it finally dawned on me, I laughed for five minutes. The Goodby E-trade stuff was tremendous. The clapping chimp spot. So completely ludicrous! And yet, leave it to GSP to bolt it to the ground with that last line. ("We just wasted 2 million dollars. What are you doing with your money?") Like a lot of people, I was in a crowded bar somewhere when the Dodge "Farmers" ad came on. My dad listened to Paul Harvey in the garage when I was a kid. So I knew that voice right away. I remember the whole place going quiet. Everyone just listened. It was hypnotic.