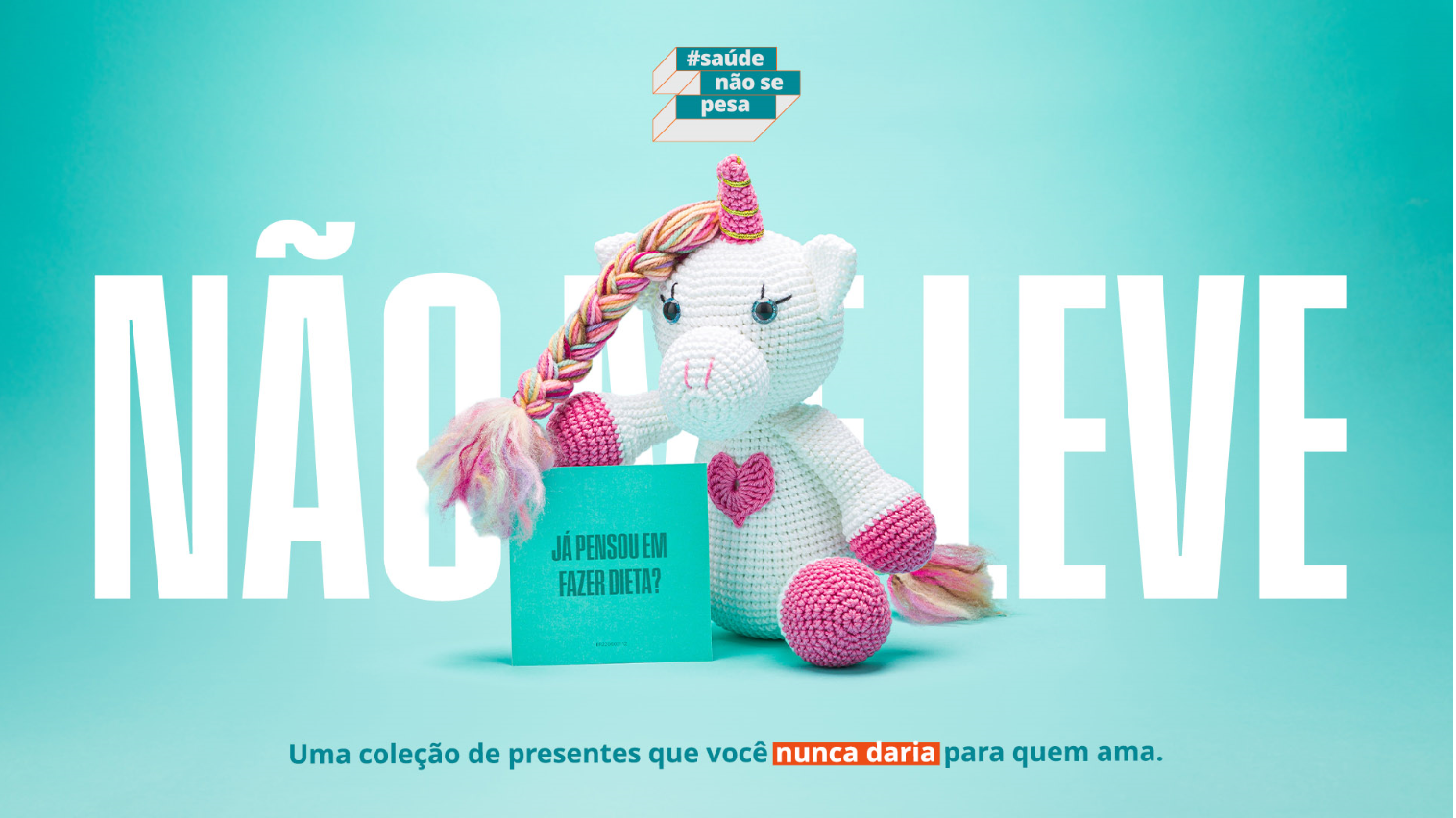 With the aim of alerting about the importance of listening, understanding, and embracing people with obesity, the leading company in the health sector Novo Nordisk, through the Saúde Não Se Pesa (Health is not weighed) movement, launched the initiative Não Me Leve (Don't take me) together with Ogilvy Brazil.
The intention of this campaign is to show how phrases and actions can harm and delay seeking treatment with a health professional. According to a survey conducted this year by the Brazilian Association for the Study of Obesity and Metabolic Syndrome (Abeso) and the Brazilian Society of Metabology and Endocrinology (SBEM), about 72% of obese people claim to have felt ashamed in their own homes because of their weight.
Based on this information, Ogilvy Brasil, responsible for the communication of Saúde Não Se Pesa, analyzed more than 200,000 conversations on social networks and found the phrases most repeated by family members: "You have such a pretty face", "You don't lose weight because you don't want to", "You're not fat, you're beautiful" and "You look much prettier thin".
As a way of raising awareness about the negative consequences of these phrases, especially when said by relatives and close people, stores were set up at Barra Shopping, in Rio de Janeiro, and at Morumbi Shopping, in São Paulo, where they placed "gifts" that should not be taken home. These are crocheted teddies with some of these messages obtained through social listening written on them, which can be heard squeezing them or seen written on the labels:
Did that phrase bother you? Imagine the effect it has on those who hear it every day from their loved ones. 72% of people with obesity hear these phrases in their homes, and this only reinforces the stigma against the disease, which should not exist. If you wouldn't give your loved ones a gift with this phrase, why do you insist on continuing to say it as if it were a expresion of affection? Don't take that message home with you because the only standard that matters is health.
"Since 2016, the Saúde Não Se Pesa movement has aimed to understand obesity as a chronic disease, putting the issue up for debate. With the Não Me Leve initiative, we want to create an impact on people to promote reflection and attitude change, especially regarding the stigma that people with obesity face on a daily basis in all kind of environments," explains Simone Tcherniakovsky, Director of Corporate Affairs and Sustainability at Novo Nordisk.
In parallel to the in-store actions, conversations were started on Instagram and Twitter about phrases laden with obesity stigmas but disguised as endearment. The initiative counted on the participation of actors and influencers André Marques, Babu Santana, Karol Lannes, Luana Xavier, Leandro Hassum, Matheus Granado and Solange Couto.
"Regarding the actions in the stores, we were able to materialize the emotions that people with obesity experience inside. The cute teddies are toys that we would like to give as gifts and take them home, but since they show contemptuous messages, we preferred not to do so. This works as a very didactic metaphor so that everyone understands, once and for all, that these types of comments are not affective and do not help people, since we are talking about a chronic disease and not something over which the individual has control", emphasize the creative directors of Ogilvy Brazil, Paulo Salles and Ricardo Sciammarella.